Your questions about the Covid-19 vaccine - Updated
Children aged 5-11 are now eligible for the Covid-19 vaccine and parents and carers can book appointments via the National Booking Service. Spring boosters are rolling out to people aged 75+, those in care homes and people who are immunosuppressed.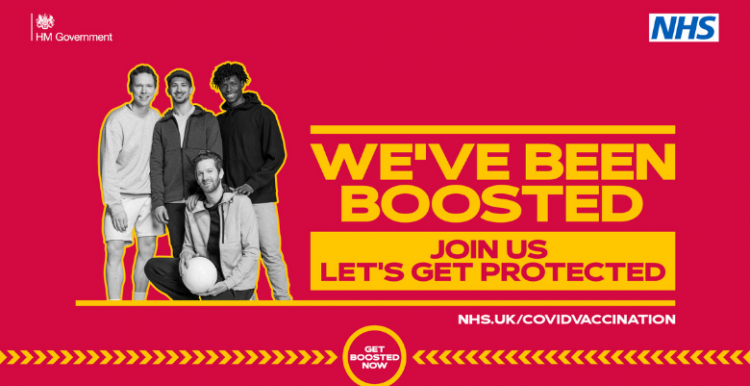 Booster vaccinations
A booster dose of the Covid-19 vaccination helps give you longer-term protection against serious illness. 
Everyone aged 16 and over who had a 2nd dose of the Covid-19 vaccine at least 3 months ago (91 days) can get a booster dose.
Some children aged 12 to 15 can get a booster dose if they have a condition that puts them at high risk from Covid-19 or they live with someone who has a weakened immune system.
If you had a 3rd dose of the Covid-19 vaccine because you have or had a severely weakened immune system, you can get a booster (4th dose) from 3 months after your 3rd dose. 
Spring booster jab
People aged 75+, care home residents and those with a weakened immune system are now being called to book an additional spring Covid-19 booster vaccine.
You should be offered an appointment around 6 months (and not before 3 months) since your last dose of vaccine.
If you are eligible for a spring booster you can book on the NHS booking site online or call 119. 
Booking your Covid-19 booster
Online at nhs.uk/covidvaccination
By calling 119.
First, second and third Covid-19 vaccinations
But it's not too late to get your Covid-19 vaccinations.
Parents and carers of 5 to 11 years olds can now book a COVID-19 vaccine for their children via the National Booking Service.The NHS is making the vaccine available for all 5 to 11s following updated JCVI guidance, which recommended all children would benefit from a non-urgent offer of the vaccine. Read more.
First and second vaccinations are being given to children aged five to 11 years who are clinically at risk or live with someone who is immunosuppressed. These are offered eight weeks apart for young people in this group.You can now book this online.
First and second vaccinations are available to 16 and 17 year olds - these are offered 12 weeks apart for most people. And eight weeks apart for young people who have a health condition that puts them at increased risk of Covid-19. Or who live with someone who is immunosuppressed. 
First and second vaccinations are available to people over 18 years or within three months of their eighteenth birthday. You can get your second dose from eight weeks after your first dose.
Third vaccinations are available to people aged over 12 whose immune system is severely weakened. People in this group will also be offered a fourth 'booster' vaccination three months after their third dose. 
Is the Covid vaccine safe?
In the UK there are several different types of COVID-19 vaccines in use.
The vaccines have been approved by the Medicines and Healthcare products Regulatory Agency (MHRA) after going through all the clinical trials and safety checks all other licensed medicines go through. 
Once approved, the Joint Committee on Vaccination and Immunisation (JCVI) considers vaccine safety, efficacy and looks at the impact and cost effectiveness of immunisation plans..
This independent group of experts advises the Government health departments on the best way to get these vaccines to the public and considers who should receive the vaccines first.
Reporting serious side effects
Like all medicines, Covid-19 vaccines can cause side effects. Most of these are mild and short- term, and not everyone gets them. Even if you do have symptoms after the first dose, you still need to have the second dose.
Very common side effects include: 
a painful, heavy feeling and tenderness in the arm where you had your injection
feeling tired
a headache
general aches, or mild flu like symptoms
Feeling feverish is not uncommon for two to three days, but a high temperature is unusual and may indicate you have Covid-19 or another infection. 
You can report suspected side effects to the MHRA via their via the official yellow card reporting scheme. 
Show you're vaccinated with the NHS Covid Pass
The NHS Covid Pass shows your Covid-19 vaccination details or test results and lets you share them in a secure way.
You can download a digital copy or request a status letter. 
Got a question?
If you have more questions about the COVID-19 vaccination programme you can find more information on the NHS website.
Information About Coronavirus
Our coronavirus information page has information on how to stay safe.