The 20/21 Annual Report highlights our work, what we've achieved and our plans for next year.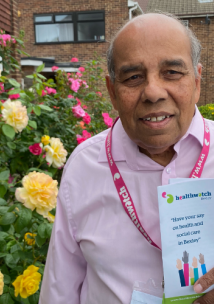 During the pandemic, we have worked hard to support and listen to local people. Read about the work we have done over the last year, and how we have helped you to share your views and experiences.
"The Healthwatch Bexley Team have worked tirelessly over the last year to make sure digital exclusion is at the forefront of decision-makers minds."
Highlights from our year
We reached out to local residents by delivering 40,000 Healthwatch Bexley leaflets.
We provided advice and information to 2,413 residents this year.
We published 10 reports about the improvements people would like to see to health and social care services. 29 recommendations we made last year have been acted upon, at the point where we reviewed progress.
We regularly updated our website with information about Covid-19,  7,392 people visited our website for information and advice and 2,524 people engaged with us through social media.