Join us and the Care Quality Commission to help shape health and social care services post COVID-19.
Help patients, key workers and your community by telling us about a recent experience of health and social care services in Bexley.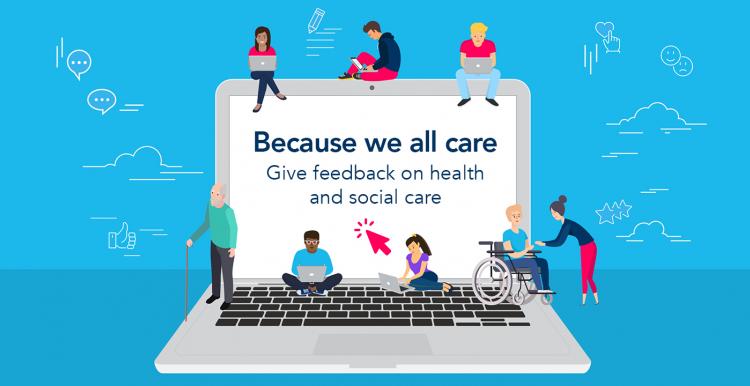 COVID-19 has resulted in a number of changes to our NHS and social care services – but what has this meant for you? We're here to listen and act on your feedback to improve care for you and others. That's why today Healthwatch is launching a national campaign #BecauseWeAllCare, encouraging you to share your experiences.
Giving feedback – both good and the bad – helps improve NHS and social care services. Thanks to people's feedback Healthwatch nationally were able to make over 7,200 recommendations to services about the improvements people wanted to see in 2018/19.
Visiting health and social care services and the way you receive care has significantly changed because of COVID-19, with some non-urgent treatment postponed, face-to-face appointments reduced and homes and services limiting public access.
During this time, public feedback has already played an important part in helping the NHS and social care services spot issues caused by the pandemic. It is vital your views and experiences continue to help professionals understand key local issues and how well services are working for you, your family and our community.
Take part in our short, confidential online survey or via the Care Quality Commission
Call us on 0208 304 9344 between the hours of 09:00 – 17:00 Monday to Friday or email info@healthwatchbexley.co.uk to share your experience, or for information about local services and support
Share your experience, and encourage others to do so, on social media with #BecauseWeAllCare. Follow us on Twitter or  Facebook.
"Every piece of information is valuable for those delivering health and social care services, so it's vital that people don't hold back from giving feedback - whether it's big or small, good or bad. It takes only a few moments, but it could make a real difference to the care that you, your loved ones and your community receives."
Tell us your experiences #BecauseWeAllCare
NHS staff are doing everything they can to support people through this pandemic, but services can't improve unless we tell them how.
Have you an experience of an online GP appointment, changes into support as a carer, or any other type of care or support from a health or social care service during COVID-19? No matter how big or how small, we want to hear how you think services can improve in our short, confidential survey.