Healthwatch Network Awards 2019
We are pleased to announce Healthwatch Bexley has been recognised and awarded highly commended in the Championing Diversity and Inclusion category at the 2019 Healthwatch Network Awards.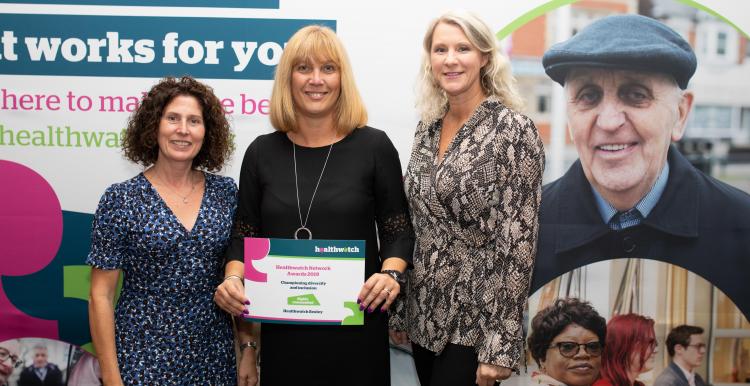 The work we did
We worked with local organisations to help make going to the GP a better experience for people with a learning disability. We trained 15 volunteers with a learning disability to visit all 26 GP services in the borough and speak to patients about their experiences.
Over 450 people shared their views, which included concerns about issues such as a lack of disability awareness amongst staff, and  information provided in formats people find difficult to understand.
Changes resulting from our work
As a result of our work, there is now a GP dedicated to advising GP practices in the area about learning disabilities and three healthcare professionals responsible for increasing the number of people having their annual health check.
In addition, several GP services have taken steps to make their staff more learning disability aware to help reduce the barriers people with learning disabilities face.
About the awards
Every year, the Healthwatch Network Awards celebrate the many positive stories of how the local Healthwatch network is helping to make care better for thousands of people. The awards are an opportunity to demonstrate where local Healthwatch worked within the local community to make sure health and social care services meet people's needs.
Healthwatch listen to what people like about the NHS and social care and what needs to be improved. Their views are shared with health and care professionals, so that services can understand what people and their families want from care.
These awards recognise how people's feedback is vital to improving services. Thanks to the many hundreds of thousands of people who shared their experiences with Healthwatch last year. This has led to positive changes to the way local health and care services are run.
The local Healthwatch shortlisted for 2019 Healthwatch Network Awards were picked from almost 150 award entries.
The winner and the highly commended from each category were chosen by a panel of external judges and announced at the Healthwatch England Annual Conference on 1 October 2019. 
Healthwatch Bexley would like to thank everyone who helped to get us nominated.
"The Healthwatch Network Awards is a fantastic event which showcases the very best of local Healthwatch. The awards demonstrate the breadth of issues local Healthwatch work on every year. Their work makes sure people's experiences are placed at the heart of the services they receive".