Blood tests during Covid-19
Blood tests are currently by appointment only due to the Covid-19 pandemic and social distancing measures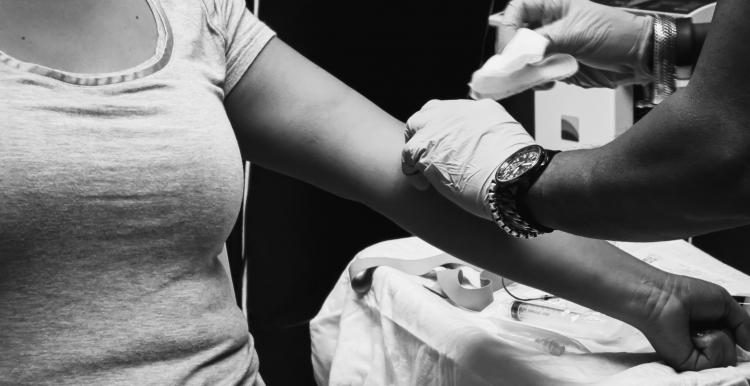 Updated 1st May
The walk-in service for blood tests was closed in response to Covid-19.  If you need a blood test, you must now make an appointment using the Blood Test Call Centre. This is one dedicated number for patients to call to book a blood test appointment at either Queen Elizabeth Hospital, Queen Mary's Hospital, Erith Hospital or Lewisham Community Hospital.
Over the past few weeks, we have received a number of complaints about the Blood Test Call Centre phone line.  Residents have reported long wait times or being cut off. 
There have been initial teething problems with the new service and the Clinical Commissioning Group and Lewisham and Greenwich Trust who run the service have been made aware of these.  They are continuing to work hard to try and rectify this issue.
If you do experience problems calling the" Blood Test Call Centre" then please contact us or the Patient Advice and Liaison Service (PALs).
To keep updated on the service status visit:
https://www.lewishamandgreenwich.nhs.uk/blood-tests-covid-19
0208 333 3217 to make an appointment
you can now request a blood test using an online form – simply fill it in and you'll be booked in within two working days.
The call centre is open Monday - Friday 8.00am until 4.00pm
Aspire Pharmacy in Sidcup is now able to carry out NHS blood tests.  You will need to take your NHS blood test form with you and the clinic is open from 8.30am until 2.00pm (no appointment is required).  Details of this service and contact phone number can be found here.
For a list of the current status of the various phlebotomy clinics to which you may be referred to click here
To make an appointment for a child's blood test under the age of ten please call:
020 8836 5053 for Queen Elizabeth Hospital
020 8308 3269 for Queen Mary's Hospital
Darent Valley Hospital Blood Tests
The following is a statement from Darent Valley Hospital:
"We are pleased to announce that from 9th November 2020, the blood test services that were moved out to Gravesend Community hospital will be resuming at Darent Valley Hospital. Blood tests were moved into the community to allow for the increase in Coronavirus cases needing acute care at the hospital. Further infection control precautions remain in place at the hospital to minimise the risk of spreading the virus. We still need to keep the footfall through the hospital to essential visits only along with many other restrictions that are designed to keep patients staff and visitors safe.
The blood test service at Darent Valley Hospital is by appointment only and following a request for you to have a test by a member of the hospital clinical staff.
 To book your blood test appointment simply call the following FROM 22nd October: 01322 428846. The booking line will be open from Monday- Friday, 8.30am till 5pm from that date.
To continue with our commitment to keep footfall to a minimum, only those with a valid appointment letter or daily access code will be allowed to enter the hospital. Please ensure that you remain vigilant against the spread of coronavirus at all times by wearing a face mask, staying 2 metres apart and keeping your hands clean, especially after touching surfaces."